Chatting at dockside are José Cruz Torres and Víctor Manuel Gil Bermúdez. They are members of the Cooperative Society of EcoFishermen of Bahía Kino, who say that it is their duty to assure development favorable to their community's ability to achieve more sustainable fishing levels.
"This cooperative emerged five years ago as a response to the problem of the increased number of divers suffering from decom-
pression syndrome, or the "bends", comments Gil. Today
harvest that also gives undersized specimens time to fully mature.
They are also preparing themselves for ecotourism, which led them to adopt the term "ecopescadores" (ecofishermen) and to get training in how to provide sport fishing services and teach diving classes as economic alternatives.
The fishermen consider that these experiences and challenges have improved their way of thinking. It's about "helping, contributing our humble little part to the community so that the children of our children learn about nature and don't just get to see these species in a photo," said Gil.
Working for Responsible, Sustainable, and Ecologically Oriented Fisheries
Members of the Eco-Pescadores Fishing Cooperative are known in Bahía Kino as "Los Morros" and they have set an example for others groups to follow.
They have three permits for scallop harvesting and  three for octopus.  The group has gained strength with the assistance of personnel from COBI (Community and Biodiversity in English).
Because of training in sustainable commercial fishing techniques, today they are careful about where they discard their refuse and have changed their work habits.  They no longer fish just anywhere without considering what species might be harmed, as had occurred before.  Better yet, they want "a safe place to fish," says diver Victor Manuel Gil Bermúdez, "because past fishing activities in the Gulf haven't left much behind and it's no longer like it used to be."

Sonora
5

Youth from the Xapoo Ecology Club interview José Cruz Torres and Víctor Manuel Gil Bermudez, members of the Eco-Pescadores Cooperative in Bahía de Kino. (Photo: Ernesto Bolado Martínez)
students from the Center for Marine Technology Studies (CETMar) No. 14.
Another theme tackled by the group was on the public policy instruments involved in the on-going conservation and recuperation of the marine and coastal environments.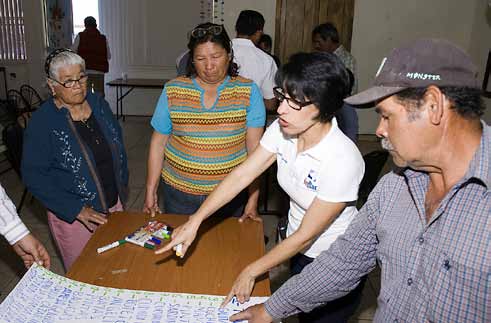 Participants at one of the work stations during the Workshop on Coastal Environmental Services in Puerto Peñasco.
(Photo: Ernesto Bolado Martínez)
they are a group o f 10 fishermen between the ages of 24 and 35.
Among their many tasks, they monitor octopus and scallops, which entails measuring the molluscs and water temperature, as well as recording GPS coordinates of the scallops' location during harvesting. They keep records, annotating their data in a log, which is used to show how frequently they can harvest, since they don't harvest octopus when they harvest scallop, and vice versa.
They set out to work only when the weather is favorable. They head in two boats and use special equipment to assure a sustainable

Cooperative Helps Community
campaign to put those services within the reach of the community and the authorities.
The focus was on environmental concerns related to the coastal and marine areas as well as with the consequences of the loss of the functioning ecosystem as seen from an historical viewpoint.
Within the mini sessions that were held, the attendees were able to answer a number of questions posed, such as:
What parts of my coastal and marine landscapes have disappeared?
What services and functions of the ecosystem do I want to preserve?

They worked in groups composed of fishermen, government officials, interested citizens, and
Finally there was the election of representatives to be spokes-
persons during the campaign that will be taking place in the coming months.
This past March in Puerto Peñasco, Sonora there was an innovative workshop on environmental services related to fishing, a theme new to some local high school students.
The workshop began at 8:30 a.m. with registration and continued on to the inauguration, a number of mini sessions and the election of fishermen to be spokespeople for their business sector and tasked with promoting environmental services.
The workshop was successful in its objective of introducing those engaged in the fishing industry, as well as other key persons in the community, to the concept of environmental services. That was the starting point for both the group's participation in creating a definition of environmental services and the application of a