Binational event draws cooperation to safeguard of Tijuana's 'last lung'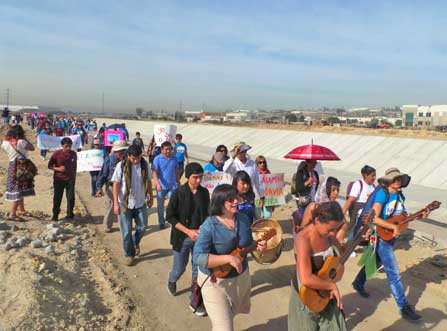 During the event "I am the Alamar" people walked to defend one of the last "lungs" of this industrial border city (Photo: courtesy of Alamar Sustentable).
TIJUANA
More than 300 people marched through the Arroyo Alamar on Feb. 15 to defend one of the last "lungs" that provides residents of this industrial city with various environmental services.
"The goal of this event is that people know the Arroyo Alamar natural area still exists and that we have time to save it," said Lourdes Lujan, a member of the Chilpancingo Collective for Environmental Justice and nearby resident to the second stage.
"We call on Conagua to formally collaborate with the Arroyo Alamar technical committee and commit to looking for sustainable development in what's left of Alamar," added Lujan.
In addition to the Chilpancingo Collective, other participating organizations included the Environmental Health Coalition, Recimec (Citizen's Network for the Community Improvement), CESDI (Education and Sociocultural Diversity Center), Nativ@s, Border Environmental Education Project, Tijuana Quality of Life , Cicea Papalotzin, Gapeti (Tijuana Environmental Ecological Patrol Group), Tijuana Environmental Group, Remexmar B.C. (Mexican Network of Environmental Waste Management of Baja California), CEIT (Global Education and Technology School), Hope Foundation of Mexico, and Ollin Calli.
Until recently a healthy riparian ecosystem, Arroyo Alamar now is largely plastered with concrete slab, part of a channeling project by the federal government.
The wooded area of this binational river is a natural resource that provides environmental services to the community and represents the last natural lung of Tijuana.

The first two stages of the drainage project have been completed, and there is progress of about half a mile on the third stage, which threatens to topple trees in the densest area of the ravine.
During the event "Yo Soy el Alamar," people hiked through the area channeled during the third stage, and held a press conference and artistic event.
"We are looking for sustainable development in our communities; Tijuana and San Diego deserve a healthy river, not only for migratory and endemic plants and animals living in the Alamar woods, but for the right that citizens have to count on places like these" said Magdalena Cerda, director of the Environmental Health Coalition.
In the third stage of the Alamar project, the closest to the Tecate River, there is still a wide assortment of plants and animals native to the area, such as woodpeckers and black herons.
It is part of a valuable ecosystem that, with its environmental services, mitigates pollution caused by the presence of the maquiladora industry and could see its beneficial impacts reduced due to the upcoming construction of a road along this stream.