Ponguinguiola environmental educators promote reading, gardening and recycling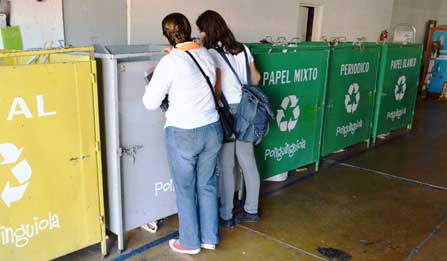 Students from Cobach 3 High School in Ciudad Obregon inspect the storage bins during a visit to a recycling bank that receives donated materials and sells them to recycling companies. (Photo: Alfredo Acedo).
CIUDAD OBREGÓN
April 14, 2015 – Ponguinguiola, a local NGO dedicated to environmental education, has been serving this city for 10 years.
Outside their facilities examples of urban organic gardening and a greenhouse can be seen, as well as samples of rainwater catchment systems which are put to use to water the crops. Those in charge of the project grow carrots, celery, tomatoes, onions and other types of vegetables in order to demonstrate the feasibility of growing healthy foods in the back yard.
Inside, there is a library open to the public with sections for adults, adolescents children and even babies. The library serves as a foundation of their programs promoting reading.
Throughout the year, they get youth from the schools and other segments of society involved in environmental education activities.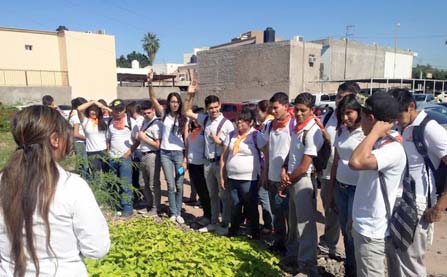 Cobach 3 students learn about the center's project growing carrots, celery, tomatos, onions and other vegetables from one of the project leaders. (Photo: Alfredo Acedo). (Click to enlarge).
In the rear of the building is a storage area with a cargo platform for trucks that serves as a "bank" for the trade in recyclable materials. The organization sustains itself through donations to the bank - of paper, cardboard, metal and other products - with the donors receiving a receipt that they can use to receive tax deductions. The materials received are in turn sold to recycling companies. Over time, all parties contribute to the conversion of tons of materials otherwise destined to pollute the environment into useful items.