Voices raised to halt the Las Cruces Dam project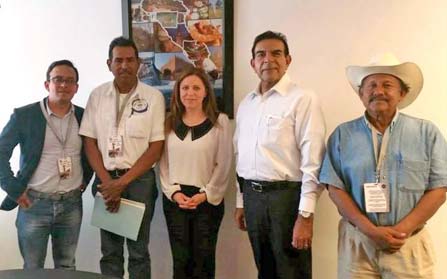 According to the signatories of an agreement in opposition to the dam reached in the the Mexican Senate chambers, the negative impacts of the Las Cruces Hydroelectric project will be felt in the Gulf of California because it will affect the National Wetlands and other coastal wetlands in Nayarit, the principal nurseries for shrimp. (Photo: Courtesy of Sumar).
MEXICO CITY
In the first trimester of 2015, representatives from the Intercommunity Council of the San Pedro River Basin in Nayarit met with Francisco Salvador López Brillo, president of the Fishing Commission for the Mexican senate, as well as two other senators, to exchange information and sign an agreement

Those who stand to be directly impacted by the Las Cruces hydroelectric project (see project map) along with the Senator then gave a press conference to announce the accord that will cancel the project located in the San Pedro Mezquital riverbed which is promoted by the Federal Electric Commission.

The dam would see the demise of the last free-flowing river in northwest Mexico and the country's seventh longest river. The source of sustenance for the state's central region, it is also the principal source of fresh water in the southern part of Durango state.

According to a study by the World Wildlife Fund and the Gonzalo Río Arronte Foundation, putting an end to the river's seasonal floods and the nutrients they provide to the valleys and coastal lagoons would have a tremendous impact on agriculture, livestock, fishing, and tourism which directly benefits almost 10,000 producers and generates 1.297 million pesos.