Obregón's Cobach III present at conference with winner of World Food Prize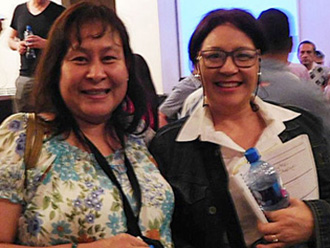 Instructors Juana Elvia Verdugo Martínez (left) and Silvia Susana Sánchez Barba, during the lecture held in Cajeme.
CAJEME
Dr. Sanjaya Rajaram, seen as the world's foremost wheat expert and winner of the 2014 World Food Prize (often considered the Nobel Prize of agriculture), gave a talk titled "Global Warming and its Effects on the Yaqui Valley" to the teaching staff in charge of the Sustainable Development Project at Cobach III Technical High School in Ciudad Obregón.
His goal was to contribute solutions to the region's environmental problems that will ultimately improve conditions in both the Yaqui Valley and the municipality of Cajeme. By the end of the meeting, participants had come to an understanding on the roles and commitments that all involved parties, whether individuals, organizations or government agencies, could contribute to each of the projects aimed at mitigating regional climate change.
Cobach instructor Juana Elvia Verdugo Martínez, head of the Sustainable Development Project, and her coworker and collaborator Silvia Susana Sánchez Barba, participated in the meeting and promised to work with their students on the pledges untaken by the community, with Dr. Rajaram as advisor.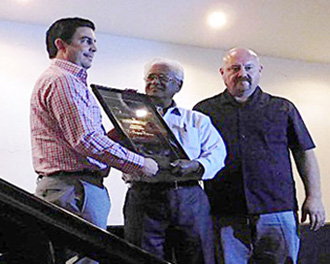 Presentation of certificate at lecture "Global Warming and Its Effects on the Yaqui Valley."
Short-term plans included reforestation of the city and its outskirts as well as the creation of a botanical garden with regional native plants. Other projects unveiled were aimed at restoration of agricultural lands in the Yaqui Valley. The instructors also pledged to participate in follow-up meetings and evaluation sessions.
Sanjay Rajaram was born in India, and is now a Mexican citizen. He is recognized for his contributions to world food security and has developed more than 480 varieties of high-yield, disease resistant wheat. His work is known in India, Africa, and Mexico.
The meeting was a joint effort of the Department of Environmental Management for Sustainable Development in the municipality of Cajame, and the Rajaram Foundation, under the leadership of Beatriz López Otero. The Foundation has as its goal the strengthening of interagency relations. Community outreach was handled by the Cobach III campus.