Environmental organizations: on a mission not always easily accomplished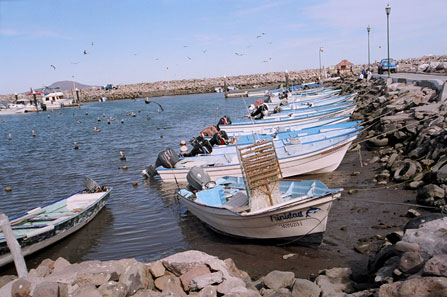 Loreto Bay--Grupo Ecologista Antares was founded by local citizens in 1993 in order to coordinate their environmental conservation efforts in the region. Its organizing and lobbying resulted in the creation of the Loreto Bay National Marine Park in 1996, which the group continues to oversee to this day. (Photo: Helene Michoux).
HERMOSILLO
Environmental groups arise in communities where responsible citizens express interest in conserving their natural heritage, and thereby their own happiness. If we understand environmental health as being a condition necessary to achieve this, then it is impossible to be happy in a place which is contaminated, degraded or lacks food or water.
Starting with this premise, the general mission of such an organization then would be to contribute to the conservation of natural resources like air, water, soil, flora, fauna, and natural spaces.
The organization would likely turn to a variety of available tools to engage in any number of different aspects of conservation work, including the prevention, correction, remediation, administration, lobbying, legislation, negotiation, outreach, education, research, and training of more allies or activists.
In terms of education, it is important to include the development of a "culture" of conservation and environmental protection, because the majority of new projects fail if they do not have the support of those within a community, neighborhood, town, city, state or country.
These organizations also have internal goals: to improve their own resources; train their staff; use the best technology available; have installations that are environmentally friendly; and secure the necessary funds to carry out their projects. As if that weren't enough, they might even have to develop the necessary skills to deal with corrupt public servants and business people whose avarice has led them to break laws, ethics, and moral principles.
It would seem then that under normal conditions it would be very difficult for these organizations to achieve their mission, since there are also large economic interests at play, such as those that exist in mining, forestry, water resources, tourism developments, and large-scale industrial polluters, where owners and proponents are willing to go to any length for the sake of completing their projects; the news of bribery and assassinations of environmental activists seems to support this claim.
It is heartening to see then, that in spite of all of these obstacles, environmental organizations are actually making advances towards reaching their goals, and environmental awareness within communities is gradually growing.