National Geographic Society announces contest to combat illegal fishing
Society's Marine Protection Prize will award $450,000 for innovative solutions and technologies that protect and sustain fisheries in coastal communities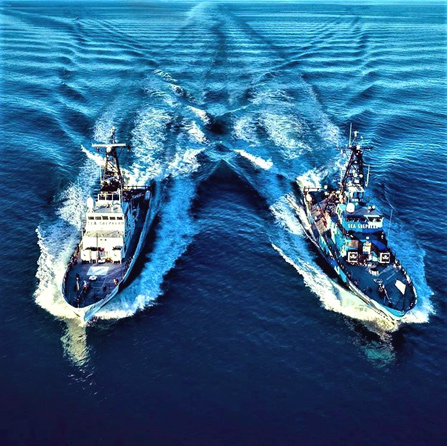 Sea Shepard is collaborating with the Mexican government during raids on totoaba poachers. The current population of the vaquita marina porpoise, which is caught as well in the illegal nets, is estimated at less than 30 individuals in the Upper Gulf of California, and the species is considered to be in imminent danger of extinction. (Photo: Courtesy of Sea Shepherd).
WASHINGTON
December 5, 2017 - The National Geographic Society today announced the opening of registration for the 2017 Marine Protection Prize. The competition will source the best uses of technology and data collection to help combat illegal, unreported and unregulated (IUU) fishing affecting island nations and coastal communities. In May 2018, the Society will award a share of $450,000 to up to three teams of experts employing the most innovative solutions to halt the growing, global overfishing challenge. Scientists, environmental leaders and students are encouraged to apply.
"Across the globe, oceans, marine ecosystems and global fishing economies are severely impacted by overfishing and illegal fishing," said Gary E. Knell, president and CEO of the National Geographic Society. "National Geographic is pleased to launch this competition to identify and elevate solutions that help ensure healthy fisheries and, more broadly, a planet in balance."
Overfishing and illegal fishing threaten our oceans, food security and the livelihood of island nations and coastal communities. The Marine Protection Prize competition seeks to identify a range of solutions that offer low-cost and easy-to-maintain technologies that address the needs of local communities.
Applications for the Marine Protection Prize must include an overview of the team members, a detailed explanation of the proposed solution, a project plan and anticipated budget, among other items. Submissions will be reviewed by a panel of judges carefully chosen for their expertise and experience. The panel consists of evaluation members, expert members and selection committee members.
Registration for the competition is open until Feb. 8, 2018, at 5 p.m. Eastern Time. Applications must then be submitted by March 8, 2018, at 5 p.m. Eastern Time. Interested individuals or teams must register online to submit an application.
Learn more about the Marine Protection Prize or register to apply, visit this page.